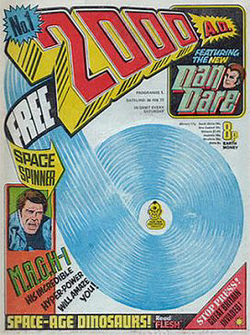 2000 AD is a science fiction comic that began in 1977 and, against the odds, is still running.
After reading a newspaper article predicting a rise in public interest in science fiction, IPC employee Kevin Gosnell hit on the idea of a sci-fi comic. Editorial director John Sanders put Pat Mills in charge of the project. Early talks between Mills and John Wagner produced the ideas of reviving Dan Dare and the inclusion of a new strip named Judge Dredd.[1]
Preparations for the first issue's release coincided with moral outrage over Action, and so a number of its strips had to be reworked so as not to offend Disgusted of Tumbridge Wells.[2]
Features
A sampling of the many strips that have appeared in the publication:
Dredd spin-offs
There have also been a large number of Dredd spin-offs, often appearing in the sister title, Judge Dredd Megazine:
Creators
A large number of British comics creators have worked at 2000 AD including:
Fanzines
The comic has also inspired a number of small press comics:
Fanzines featuring 2000 AD characters and settings:
The active fanbase has also been inspired to produce original comics and comics magazines:
See also
References
↑ Kibble-White, Graham (2005). Ultimate Book of British Comics. London: Alison & Busby. p.23. ISBN 0-74908-211-9
↑ Kibble-White, Graham (2005). Ultimate Book of British Comics. London: Alison & Busby. p.24. ISBN 0-74908-211-9
External links
Online reference
2000 AD at the Comic Book DB
Category:Weekly Category:Anthologies Category:Science fiction Category:IPC titles Category:Fleetway (1987) titles Category:Rebellion titles * Category:Comics launched in 1977
Community content is available under
CC-BY-SA
unless otherwise noted.