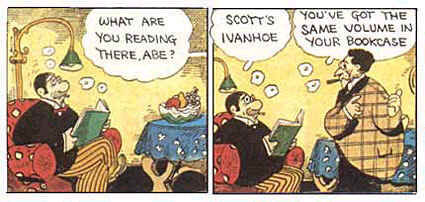 Abie the Agent was a popular early American comic strip about a Jewish car salesman by Harry Hershfield. When Hershfield had success with a Yiddish character with his comic strip Desperate Desmond, he was encouraged by his editor to create a new strip concerning Yiddishism and Jewish immigrants in the United States.
Characters and story
Abraham Kabibble, known as Abie the Agent, was the first Jewish protagonist of an American comic strip.[1] The character debuted in the New York Journal on February 2, 1914.[2] Abie was a rebuttal of some of the Jewish stereotypes of caricatures, and represented a moderately successful (though very stingy) middle-class immigrant.[3] While Abie and his friends had many typical Jewish characteristics, such as their names or their use of Yiddish words and accents, they also lacked many of the negative or malicious elements, such as exaggerated physical traits, found in the depictions of Jews from this time. Abie was in many ways indistinguishable from other caucasian Americans, and he was a prime example of the belief in the integration of German Jews into U.S. society. During 1917, the character enlisted in the Army to help the USA win World War I.
The character lost many of his more typical Jewish characteristics over the decades, showing his successful integration but also slowly diminishing the particular features of this comic strip.[4] The comic was produced by a Jewish artist, but can be considered discriminatory since it arguably only tried to promote the assimilation of Jews as caucasian Americans, at the same time distinguishing them from other ethnicities like Mexicans or African Americans who were often depicted negatively.[4]
Animation
Syndicated by King Features, the strip became popular, and during 1917 two animated cartoons were made.[2] No further developments or much merchandise appeared though, and the comic strip went on hiatus between 1931 and 1935, to end during 1940. An indication of its popularity was the reference to Abie Kabibble used in Animal Crackers, the 1930 Marx Brothers movie.[4]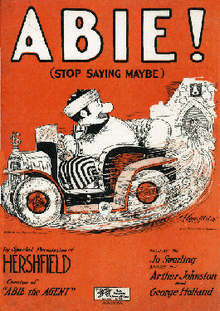 See also
References
External links