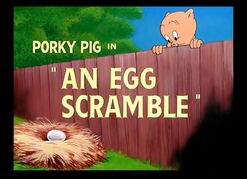 An Egg Scramble is a 1950 cartoon. It was later re-released in 1959 as a Blue Ribbon cartoon.
Plot
Miss Prissy, a hen on Porky's farm, has never laid an egg in her life. One of her fellow hen friends decides to paint Prissy's name on an egg and place it inside in Prissy's nest. Prissy believes that she laid the egg and when Porky comes to take it for the market Truck she refuses to let him have it. Porky manages to grab the egg and gives it to the driver of the truck. Prissy is so determined to have "her egg" back that she follows the truck to the city. She finds the egg in a woman's house grabs it and flees. Convinced that the police are chasing her, Prissy hides out in a run-down building where an escape criminal also happens to be hiding.
Trivia
Community content is available under
CC-BY-SA
unless otherwise noted.