Charlie Peace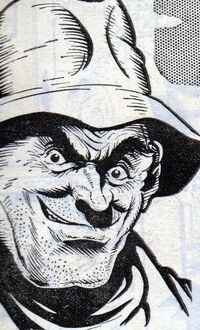 Real Name
Charles Frederick Peace
Current Alias
Charlie Peace
Base Of Operations
London
Characteristics
Status
Origin
Place of Birth
Sheffield, England
Charlie Peace was a cunning but frequently unlucky thief who operated in Victorian England until he was acccidentally transported through time to London in the 1960's. There, he continued his criminal career. He eventually returned to his own time period.
Albion
According to one account, Peace returned to the 2oth Century and, when various other individuals like himself who had led unusual lives began being rounded up by the Government, went into hiding under the alias of antique dealer Charles Love. He later participated in a mission to free his fellow 'characters' (including the The Steel Claw and Tim Kelly) from a remote Scottish prison.

Appearances, Images, and QuotesEdit
Charlie Peace was based on a genuine Victorian criminal, though the historical charlie was a much more unsavoury character-a brutal killer.
Charlie Peace's series originally lasted (first in Valiant but for most of its run in Buster) from 20th July 1964 to June 15th 1974.
Like many other IPC characters, he was revived by Alan Moore, Leah Moore, John Reppion and Shane Oakley in the US published limited series Albion in 2005-2006.

Community content is available under
CC-BY-SA
unless otherwise noted.