Date of Birth
October 31, 1959
Place of Birth
Lomazzo, Province of Como, Italy
First publication
Unknown
Personal History
Personal History of Claudio Villa is unknown.

Professional History
Claudio Villa (Lomazzo, October 31, 1959) is an Italian comic artist.
Biography
After graduating from art school he works in artist Franco Bignotti's studio where he learns and refines his knowledge of comic techniques.
His professional debut is with Editions L.U.G., in 1980, on the six-issue miniseries Enguerrand e Nadine. For the same publisher he draws four episodes of a science fiction series, featuring a character that was drawn years before by Lina Buffolente: Gun Gallon.
In 1982 he starts his collaboration with Sergio Bonelli Editore and is added to the art staff of Martin Mystère. After four episodes he is called upon to draw the most famous character in the stable of the Milan publisher: Tex. In 1986 he is entrusted with the graphic design of two characters: Dylan Dog (with scripts by Tiziano Sclavi), becoming the official series cover artist (remaining up to issue #41), and Nick Raider (with scripts by Claudio Nizzi).
Noteworthy Issues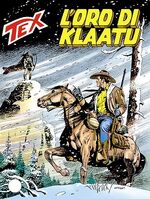 Notes
Trivia
See Also
Work History
Official Website
Links and References
Community content is available under
CC-BY-SA
unless otherwise noted.