For other versions of Dan Dare, see the disambiguation page.
Dan Dare (2000AD)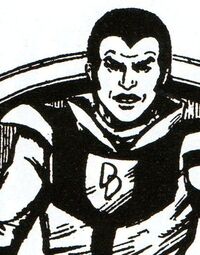 Real Name
Daniel McGregor Dare
Base Of Operations
Deep space
Characteristics
Unusual Features
Zigzag eyebrows
Status
Occupation
Cosmic adventurer
Origin
Injured in a reactor explosion, space hero Dan Dare was awoken from suspended animation decades into his own future, given cosmetic surgery to restore his damaged face (leaving him looking literally like a new man) and placed in charge of a group of tough spacers on a mission to explore the so-called 'Lost Worlds'. Eventually though, Dare's crew were wiped out and his space fort destroyed, and Dare found himself under the mental domination of his oldest foe, the Mekon.
Breaking free, Dare acquired the powerful artifact known as Eternicus, the Cosmic Claw (which he wore as a gauntlet) and challenged the Mekon. He was last seen on the run from the Galactic authorities having been framed by his old foe.

ParaphernaliaEdit
Weapons
Eternicus, the Cosmic Claw.

This version of Dare, supposedly the original in a revamped form, was abandoned by 2000 AD in 1980. He was last seen being erased from existence by Tharg in the spoof strip 'Tharg's Head Revisited' in 2000 AD prog 500.

Related
Links
Footnotes
Community content is available under
CC-BY-SA
unless otherwise noted.