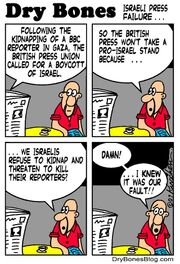 Dry Bones is an Israeli political cartoon strip published in the English-language newspaper The Jerusalem Post since 1973. Dry Bones is the work of Yaakov Kirschen.
The name of the comic strip refers to the vision of the "Valley of Bones" in the Book of Ezekiel (37:1-14).[1]
Dry Bones has been reprinted and quoted by the New York Times, Time Magazine, LA Times, CBS, AP and Forbes. It offers a pictorial commentary on current events in Israel and the Jewish world.[2]
Kirschen won the Israeli Museum of Caricature and Comics' Golden Pencil Award for his work.[3]
Dry Bones is syndicated in America by Cagle Cartoons.
Kirschen says his cartoons are designed to make people laugh, which makes them drop their guard and see things the way he does. In an interview, he defined his objective as a cartoonist as an attempt to "seduce rather than to offend." [4]
See also
References
External links
Community content is available under
CC-BY-SA
unless otherwise noted.