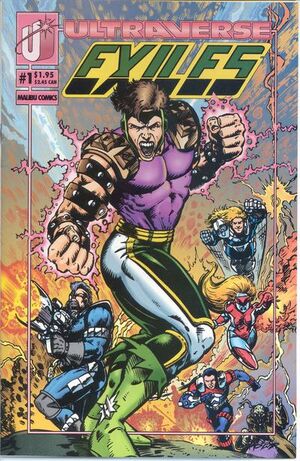 Textless Variant
Previous Issue
Next Issue
—
Appearing in "Down The Rabbit Hole"
Featured Characters:
Supporting Characters:
Adversaries:
Other Characters
Locations:
Items:
Vehicles:
Synopsis for "Down The Rabbit Hole"
Synopsis not yet written.
Notes
Blink's arrival at the desert beyond time and space was originally chronicled at the end of Blink #4 (June, 2001).
This story is reprinted in Exiles Ultimate Collection Vol. 1.

Trivia
Blink mistakes Morph for his counterpart in her home reality. The

Morph

in the Age of Apocalypse was a member of the X-Men.
Mimic's super-power allows him to copy five different abilities from other super-beings. At the time of him joining the Exiles he had Angel's wings, Cyclops' optic blast, Wolverine's claws/senses/healing factor, Colossus' armor, and Beast's agility and large limbs. Additionally, Mimic has some residual telepathy that he mimic'd from Marvel Girl.
See Also
Footnotes
 , Sabretooth, Sinister, and Wild Child.
In Morph's home reality, he's shown in super-hero teams from his own reality, of them there are The

New Mutants

(

Cannonball

,

Mirage

, Wolfsbane, Sunspot, and Morph), The X-Men (

Cyclops

,

Jubilee

, Polaris,

Psylocke

, Wolverine, and Morph), The Avengers (Captain America, Warbird, Thor, Hawkeye, Beast, and Morph), and another incarnation of the X-Men (

Iceman

,

Gambit

, Professor X, and Unidentified female) some characters have different costumes than their prime Marvel Universe counterparts.
Mimic's reality depicts him fighting the X-Men (Cyclops, Marvel Girl,

Iceman

,

Beast

,

Angel

) with the Brotherhood of Evil Mutants (Scarlet Witch, Toad, Blob, and Mimic.) The X-Men, Blob, and Toad are wearing their original costumes. The Scarlet Witch is wearing a costume she wore later with the Avengers in the prime Marvel Universe. Marvel Girl is depicted as a blond instead of a redhead. Mimic's goggles are clear instead of red ruby quartz. A later panel shows him with

Bishop

and Wolverine of his own reality. Bishop and Wolverine both look different from their counterparts in the prime Marvel universe.
Nocture's flashback shows the X-Men of her reality which consist of Nightcrawler, Wolverine,

Shadowcat

,

Thunderbird

, and others. Nightcrawler is bald and wears an eyepatch. Shadowcat appears to be wearing a variation of her blue costume she wore in the prime Marvel Universe when she was a member of Excalibur.
In Thunderbird's reality,

Apocalypse

wears a costume similar to that of his counterpart in the Age of Apocalypse.
Morph's counterpart

in universe Earth-616 went by the name of

Changeling

who is deceased. He was killed while impersonating Professor X.
Nocture is a member of a band called the Butt Monkeys.
When Magnus creates credit cards out of thin air they are all parodies of real credit cards. These cards are Canadian Express (Parody of American Express), MasterCr--- (Parody of Mastercard), and Zisa (parody of Visa)
In the reality the Exiles visit in this issue Professor Xavier is evil. In universe Earth-616, Charles Xavier is founder of the X-Men and is constantly questing for peaceful co-existence between humans and mutants.
REDIRECT

User:Peteparker/Morph
| Recommended = Blink's Back Story:
Tales From The Age of Apocalypse
Astonishing X-Men #1-4
X-Men: Omega
Blink 1-4 Limited Series
Nocture backstory:
X-Men Millennial Vision One-Shot
| Links =
}}