Fresh Airedale is a 1945 Merrie Melodies short.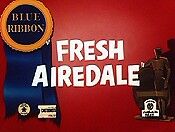 Plot
In his master's eyes, "good old Shep" is the perfect dog, but the cat knows he's really a two-faced mutt who can be bought off with a bone by a burglar, and then take credit for it when the cat chases the crook off. But then Shep becomes obsessed by a newspaper story proclaiming a real canine hero the nation's "No. 1 Dog."
External Links
Community content is available under
CC-BY-SA
unless otherwise noted.