Hippety Hopper is a 1949 cartoon. It was directed by Robert McKimson, from a story by Warren Foster.
Plot
A mouse is attempting to commit suicide, but is stopped at the last minute by a kangaroo named Hippety Hopper. The mouse makes a deal with the kangaroo, that he will release him, in exchange the kangaroo will terrorize the mouse's tormentor a cat named Sylvester. He does so by making it look as if vitamins have enlarged the mouse. Sylvester attempts to fight the mouse, but loses and gets set to a ravaging Bulldog.
Now Playing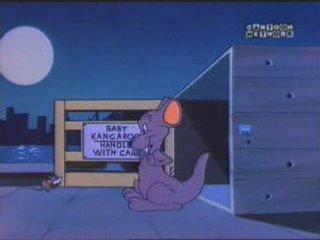 Community content is available under
CC-BY-SA
unless otherwise noted.