Invisible Scarlet O'Neil
Author(s)
Russell Stamm
Current status / schedule
Daily & Sunday, concluded
Launch date
June 3, 1940
End date
1956
Alternate name(s)
Scarlet O'Neil (1950–1955)
Stainless Steel (1955–1956)
Syndicate(s)
Chicago Sun-Times Syndicate
Genre(s)
superhero, adults
Invisible Scarlet O'Neil is an American comic strip written and drawn by Russell Stamm, who had previously been an assistant to Chester Gould on Dick Tracy.[1] The strip focused on Scarlet O'Neil, a plainclothes superhero (and one of the first superheroines) with the power of invisibility.[2]
Publication history
Originally published by the Chicago Daily Times, Invisible Scarlet O'Neil ran from June 3, 1940, to 1956.
In 1950, the title of the strip was reduced to simply Scarlet O'Neil and changed again in 1955 to Stainless Steel.
Characters and story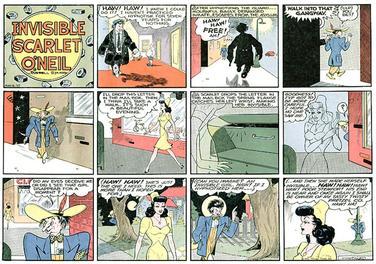 Scarlet used her power of invisibility mostly to help out strangers in need and help the police catch dangerous criminals, as explained by comics historian Don Markstein:
Scarlet got the power of invisibility from a ray her father, a scientist, was experimenting with. She curiously put just her finger in the ray, and suddenly disappeared, clothes and all. Fortunately, she discovered that a certain nerve in her left wrist could work as a toggle for the power — touching the nerve turned her invisibility on or off. This origin story was told in the first episode, in the form of a quick flashback to events years earlier, so she could get right into action. Scarlet's adventures were a little light on Nazi spies, Japanese saboteurs, master criminals and the like. In fact, they were kind of light, period. Russell Stamm, the cartoonist who created her, was a former assistant on Chester Gould's Dick Tracy, but chose a less severe approach for his own strip. The art was more rounded and "friendly" looking, and the stories less hair-raising. Instead of shooting it out with vicious killers, Scarlet's typical adventure, especially near the beginning, involved helping children in trouble. She did take on some dangerous foes, but her strip was less an action-packed comic than a send-up of them.[3]
In other media
Scarlet O'Neil also appeared in comic books, Big Little Books, and a 1943 prose novel. Atlantis Studios in 2007 published a one-shot comic book Untold Origins of Invisible Scarlet O'Neil on the history of the character.[4] In 2017 Babes With Blades premiered a play by Barbara Lhota based on the strip.[5]
Graphic novel
In 2012 New Legends Productions published a graphic novel with a contemporary setting written by the son of the creator, Russell Stamm Jr., and artwork by Wendell Cavalcanti (pencils), Rob Jones and Elton Thomasi (inks).[6]
References
External links
Community content is available under
CC-BY-SA
unless otherwise noted.