---
---
---

This page contains some of the same content as the Marvel Database article. A more complete and current article is at the Marvel Comics Database John Domingo (Earth-93060).
The complete list of authors can be seen in that articles page history. We wish to thank all awesome contributors at the Marvel Database who have worked so hard to bring us this information..

---
---
---
John Domingo (Earth-93060)
Real Name
John E. Domingo
Base Of Operations
San Francisco
Characteristics
Status
Occupation
Adventurer; Musician
Origin
Origin
Johnny gained his powers from piece of shrapnel that embedded itself in his head after his car was struck by a cable car that had been hit by a burst of energy known as a "jumpstart".
First appearance
(as Johnny Domino)(as Night Man)
John Domingo took the stage name Johnny Domino once he became a professional saxophone player.[1] He was active in the San Francisco bay area when his Miata was hit by a runaway cable car. The cable car was struck by the Jumpstart effect, an Ultra-creating burst of energy from the Entity on the Moon. As a result, Johnny and all those aboard the cable car were transformed into Ultras.[2]
Johnny was the only person seriously injured in the cable car crash, and was in a coma for several weeks.[3]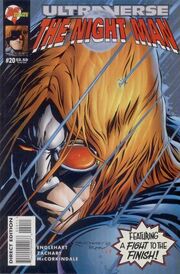 Powers and AbilitiesEdit
Powers
Abilities
Talented saxophone musician. Trained in aikido.
Weaknesses
Cannibalism: After accepting Rhiannon's gift, Night Man was bound to her elixir of life to maintain his abilities and survival. Every three months he needed to mix a broth from different human organs in order to survive.

ParaphernaliaEdit
Equipment
Makeshift items from hardware stores and the like, plus a Kevlar vest he'd taken from his father.
Transportation
Grappling hook and rope; motorcycle
Weapons
Gun and a taser
Related
Links
Footnotes
Community content is available under
CC-BY-SA
unless otherwise noted.