Mammy Two Shoes (sometimes Mrs. Two Shoes) is a fictional character in MGM's Tom and Jerry cartoons. She is a heavy-set middle-aged black woman who often has to deal with the mayhem generated by the lead characters.
As a partially seen character, she was famous for never showing her face (except very briefly in Saturday Evening Puss). Mammy's appearances have often been edited out, dubbed, or re-animated as a slim white woman in later television showings, since her character is a mammy archetype now often regarded as racist.[1] Her character was greatly inspired by Oscar-winning black actress and singer Hattie McDaniel, best known for playing "Mammy" in MGM and David O. Selznick's 1939 film Gone with the Wind.
Theatrical Tom and Jerry cartoons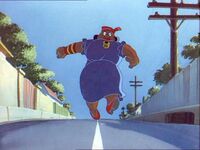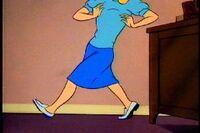 One of Mammy's earliest appearances was in Puss Gets the Boot (1940), the first Tom and Jerry cartoon (where Tom was called Jasper). Her last appearance was in Push-Button Kitty (1952).[2] She was originally voiced by well-known African-American character actress Lillian Randolph.
She always called Tom by his full name Thomas, and almost always used is in place of are and am ("is you" and "I is").
William Hanna and Joseph Barbera initially portrayed Mammy as the maid of the house, with the real owners unknown to us. Or at least her apron suggests she is a maid. Later, Hanna and Barbera seemed to suggest, through dialogue and occasional behavior, that the house was Mammy's own. In one occasion, she goes to her bedroom. This suggests she owns the house and is its sole human occupant.[2]
One of Jerry's common tactics is to try to sabotage a task Mammy has given Tom or destroy the house and/or its contents, in order to get Tom thrown out of the house. This is taken to ridiculous levels in Mouse Cleaning, where Mammy immediately blames Tom when a coal delivery fills the house thanks to Jerry.
In the 1960s, the MGM animation studio, by then under the supervision of Chuck Jones, created censored versions of the Tom & Jerry cartoons featuring Mammy for television. These versions used rotoscoping techniques to replace Mammy on-screen with a similarly stocky white woman (in most shorts) or a thin white woman (in Saturday Evening Puss); Randolph's voice on the soundtracks was replaced by an Irish-accented (or, in Puss, generic young adult) voice performed by white actress June Foray.[2][3] Paul Mular, head of Broadcast Standards and Practices (BS&P) at KOFY-TV (Channel 20) in San Francisco in the late 1990s, believes this was an overreaction to calls for racial sensitivity as the original Mammy was inoffensive.[2]
The original versions of the cartoons were reinstated when Turner Broadcasting System acquired ownership of the Tom & Jerry property in August 4, 1986. But in 1992, the cartoons featuring Mammy were edited again; this time, to replace Lillian Randolph's voice with that of Thea Vidale, who re-recorded the dialogue to remove Mammy's use of potentially offensive dialect. These re-recorded versions of the cartoons are aired to this day on Turner's Cartoon Network-related cable channels, and have at times turned up on DVD as well. However, some European TV showings of these cartoons, especially the UK, as well as the US DVD and Blu-ray release of Tom and Jerry Golden Collection, retain Randolph's original voice. The Region 2 Complete Collectors Edition DVD boxset has Vidale's voice on the first DVD and Randolph in a number of the episodes after that (such as A Mouse in the House and Mouse Cleaning).
Mammy outside Tom and Jerry cartoons
Five years before Tom and Jerry's debut, a similar Mammy Two-Shoes character debuted in the Silly Symphony short Three Orphan Kittens (1935) by Disney. She then appeared in three more Disney cartoons; More Kittens (1936), Pantry Pirate (1940), and Figaro and Cleo (1943). Unlike her Tom and Jerry counterpart, Disney's version is not musophobic (fears mice). That Mammy Two Shoes and her prototype in Three Orphan Kittens are so similarly designed may not have been a coincidence: Three Orphan Kittens won the 1935 Academy Award for Best Short Subject, and Hanna-Barbera had most probably seen the cartoon. The official debut of the character were cameos in a few MGM Bosko cartoons as Bosko's Mother.
Replacement characters for Mammy
From 1954's Pet Peeve, Mammy disappeared from Tom and Jerry; the owners of the animals' house became a young, white, middle-class couple named Joan and George, and starting with 1955's The Flying Sorceress, the audience was able to see these owners' heads.
In 1961, when Rembrandt Films began producing Tom and Jerry shorts, the owner of the house became a corpulent white man. The character was designed by Gene Deitch, who recycled the design from his Terrytoons character Clint Clobber.[4] This new owner, whose face would turn bright red, and often derived great glee in doing so, was more graphically brutal in punishing Tom's mistakes as compared to Mammy Two Shoes, such as beating and thrashing Tom repeatedly, searing his face with a grill and forcing Tom to drink an entire carbonated beverage. "Clobber" (for want of a better name) was introduced in Down and Outing as a fisherman who owned Tom as well as their house. "Clobber" later appeared in High Steaks as a chef, and Sorry Safari as a hunter before being dropped.
Later Tom's owner varied. A housewife similar to the re-edited Mammy appeared in the later Deitch short Buddies Thicker Than Water. A slim blonde housewife had a brief, non-speaking role in Chuck Jones' The Unshrinkable Jerry Mouse and in the more recent direct-to-DVD film Tom and Jerry: The Fast and the Furry.
Tom and Jerry Tales and Mammy's modern return
In the modern Tom and Jerry Tales a redesigned Mammy has appeared, debuting in the short Prehisterics (as a cavegirl) and turning up again later on. Though keeping her buxom, overweight build, tough personality, Southern accent and tendency to call Tom "Thomas," Mammy's skin tone has changed to white, presumably to avoid any possible controversy. Several photos on a mantel in Ho, Ho Horrors also imply that Mammy now has a family (a man and a boy, also shown only as legs and partial torsos), though they have yet to appear in actual animation. In the short Power Tom, the story casts Mammy as a superheroine called Power Gal, though it's only for this one cartoon.
In the new shorts, the now-Caucasian Mammy is explicitly called "Mrs. Two-Shoes".
Featured shorts
Tom and Jerry
Similar character in Disney cartoons
Tom and Jerry Tales (as Mrs. Two Shoes)
Prehisterics
Ho, Ho Horrors
Tin Cat of Tomorrow
Power Tom
Cat Show Catastrophe
The Cat Whisperer
Adventures in Penguin Sitting
Invasion of the Body Slammers
Sasquashed
Summer Squashing
Little Big Mouse
You're Lion
Monkey Chow
Game of Mouse and Cat
Major appearances
Voice actors who portrayed Mammy Two Shoes
Sources
References
MGM Cartoons
Series
People
Related

MGM Animation/Visual Arts
Metro-Goldwyn-Mayer Animation
The Ub Iwerks Studio
Community content is available under
CC-BY-SA
unless otherwise noted.