m

m

(→‎Bibliography: clean up, replaced: [[Daredevil (Marvel Comics)| → [[:wikipedia:Daredevil (Marvel Comics)|)

Line 65:
Line 65:
 

* ''[[Fables (comics)|Fables]]'' issue #76 (2008), "Around the Town", written by [[Bill Willingham]].

 

* ''[[Fables (comics)|Fables]]'' issue #76 (2008), "Around the Town", written by [[Bill Willingham]].

 

* ''[[iZombie]]'' #1-28 (2010-2012)

 

* ''[[iZombie]]'' #1-28 (2010-2012)

−

* ''[[Daredevil (Marvel Comics)|Daredevil (Vol.3)]]'' #17 (2012)

+

* ''[[Daredevil (Marvel Comics)|Daredevil (Vol.3)]]'' #17 (2012)

 

* ''[[Wolverine and the X-Men (comics)|Wolverine and the X-Men]]'' #17 (2012)

 

* ''[[Wolverine and the X-Men (comics)|Wolverine and the X-Men]]'' #17 (2012)

 

* ''[[Future Foundation#The Future Foundation: Marvel NOW.21|FF (vol.2)]]'' #1(2012)

 

* ''[[Future Foundation#The Future Foundation: Marvel NOW.21|FF (vol.2)]]'' #1(2012)
---
Revision as of 00:09, 28 May 2016

Real Name
Michael Dalton Allred
First publication
Unknown
Personal History
Personal History of Mike Allred is unknown.

Professional History
Michael Dalton "Mike" Allred is an American comic book artist and writer most famous for his indie comics creation, Madman. His style is often compared to pop art, as well as commercial and comic art of the 1950s and 1960s.
Biography
Allred began his career as a TV reporter in Europe, and started drawing comics in 1989 with the 104-page graphic novel Dead Air (Slave Labor Graphics). Following this up with his similarly titled works Graphique Musique (SLG, 1990) and Grafik Muzik (Caliber Comics 1990/91), he set out the style that he was to become known for with his most famous character: Madman.[1]
The first Madman miniseries debuted from Tundra Publishing in March 1992, and gained higher recognition with its move to Dark Horse Comics in April 1994. Relaunched as Madman Comics, it went on to be nominated for several Harvey Awards. Allred himself gained further mainstream attention with the science-fiction/rock-and-roll comic Red Rocket 7 and his art for writer Peter Milligan's series X-Force, which he began drawing in July 2001, and subsequently became X-Statix after X-Force #128.
Following this, he did The Golden Plates, an adaptation of The Book of Mormon.[2]
Allred is currently drawing the Marvel Comics series Silver Surfer written by Dan Slott.[3]
His retro-styled artwork is a frequent nominee for comics awards such as the Harveys, the Eisners, and the Eagles. He has received a lifetime-achievement AML Award.
His wife, Laura, frequently works as his colorist.[4]
Notable works
Influences
Influenced
Bibliography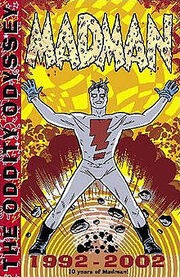 | | |
| --- | --- |
| | This section requires expansion. (September 2008) |
Dead Air (graphic novel, 1989).
Graphique Musique (#1-3, comic-book, Slave Labor Graphics, 1989–1990).
Creatures Of The Id (one shot, Caliber Press, October 1990).
Grafik Muzik (#1-4, comic-book, Caliber Press, 1990–1991).
Madman (#1-3, Tundra Publishing, 1992).
Madman Adventures (#1-3, Tundra Publishing, 1992–1993).
The Geek (Vertigo Comics, 1993)
Sandman issue 54 (Vertigo Comics, 1993)
Madman Comics (#1-20, Dark Horse Comics, 1994–1995).
X-Force (from issue 116 to issue 128, Marvel Comics) with writer Peter Milligan.
X-Statix with writer Peter Milligan and special guest artist Paul Pope for issue 5
Wednesday Comics #1-12 (2009) - Metamorpho (art), with story written by Neil Gaiman.
Madman Atomic Comics #1-17 (2007–2009)
Fables issue #76 (2008), "Around the Town", written by Bill Willingham.
iZombie #1-28 (2010-2012)
Daredevil (Vol.3) #17 (2012)
Wolverine and the X-Men #17 (2012)
FF (vol.2) #1(2012)
silver surfer (2014)
all new doop (2014)
Covers only
Cheval Noir #39 (Dark Horse, 1993)
The Comics Journal #164 (Fantagraphics Books, 1993)
Classic Star Wars: The Early Adventures #1 (Dark Horse, 1994)
Dark Horse Presents #100-0, 100-5 (Dark Horse, 1995)
Heartbreakers #3 (Dark Horse, 1996)
Jay & Silent Bob #2 (Oni Press, 1998)
Vertigo: Winter's Edge #2 (Vertigo, 1999)
Empty Love Stories #2 (Funny Valentine, 1999)
Oni Press Summer Vacation Supercolor Fun Special #1 (Oni Press, 2000)
Comicology #2 (TwoMorrows, 2000)
Oni Press Color Special #1-2 (Oni Press, 2001–2002)
Madman Picture Exhibition #4 (AAA Pop Comics, 2002)
Spider-Man Unlimited #6 (Marvel, 2005)
Marvel Knights 4 #23-24 (Marvel, 2005–2006)
X-Statix Presents: Dead Girl #1-5 (Marvel, 2006)
Spider-Man Fairy Tales #4 (Marvel, 2007)
Popgun Volume 1 gn (Image, 2007)
The Perhapanauts Annual #1 (Image, 2008)
Jersey Gods #1, 4, 6-10, 12 (Image, 2009–2010)
Rapture #3 (Dark Horse, 2009)
Fractured Fables gn (Silverline, 2010)
Captain Action Season 2 #1 (Moonstone, 2010)
Teen Titans #86 (DC Comics, 2010)
glamourpuss #19 (Aardvark-Vanaheim, 2011)
iZombie #12, 18, 21, 24 (Vertigo, 2011–2012)
The Next Issue Project #3 (Image, 2011)
Star Trek/Legion of Super-Heroes #5 (IDW Publishing, 2012)
It Girl! and the Atomics #1-ongoing (Image, 2012–...)
Before Watchmen: Silk Spectre #3 (DC Comics, 2012)
Happy! #1 (Image, 2012)
Mars Attacks The Real Ghostbusters #1 (IDW Publishing, 2012)
Other work
As artist
As writer
Astroesque (1996)
G-Men from Hell (2000)
As musician
The Gear - Son of Red Rocket Seven (1998)
The Gear - Left Of Center Of The Universe (2009)
Guest appearances
Allred appeared as himself in the movie Chasing Amy as part of the opening scene at a comic book convention, signing copies of his comic Madman. He also provides the artwork for the fictional comic book Bluntman and Chronic.
Notes
References
External links
Interviews
Notes
Science fiction writer Lee Allred is his older brother.

Trivia
See Also
Work History
Official Website
Links and References
Community content is available under
CC-BY-SA
unless otherwise noted.