Pete Puma
(voiced by
Stan Freberg
) is a cartoon puma. He debuted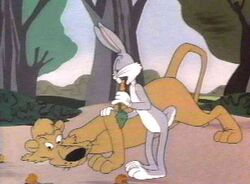 on November 15, 1952 in
Rabbit's Kin
, a
Merrie Melodies
animated short directed by
Robert McKimson
, from a story by
Tedd Pierce
. Animation was by
Charles McKimson
, Herman Cohen,
Rod Scribner
, and Phil De Lara. Though Pete Puma made only three appearances, in
Rabbit's Kin
and in
Pullet Surprise
, he is often vividly remembered by cartoon fans, especially for his bizarre, inhaled, almost choking laugh (based on comedian Frank Fontaine's "Crazy Guggenheim" character). His inhaled chortling sound is "Ihhhhhhhh!". In
Rabbit's Kin,
Pete is chasing a young rabbit (named "Buster Rabbit" by some fans, though in the cartoon, Bugs repeatedly calls him "Shorty"), who asks
Bugs Bunny
for help. Bugs is eager to oblige, and subjects Pete to some of his trademark pranks. Pete Puma's voice was used (though not by Freberg) in a
Sylvester
cartoon titled
Mouse and Garden
, in 1960. More recently, he has made occasional appearances on
Tiny Toon Adventures
(as the
ACME Looniversity
janitor), episodes of
The Sylvester and Tweety Mysteries
, co-starred with
Foghorn Leghorn
in
Pullet Surprise
(voiced again by Stan in all of these appearances), made a cameo appearance in the crowd scenes of
Space Jam
,
Carrotblanca
(as a waiter), and is a supporting character in the
Looney Tunes
comic books.
Stan Freberg provides commentary for Rabbit's Kin on the Looney Tunes Golden Collection, but spends most of his time simply repeating Pete Puma's lines in the Pete Puma voice, instead of providing any real insight on the creative process.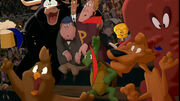 Pete Puma made several appearences in The Looney Tunes Show (such as being a zookeeper, a past friend of Daffy's, working at Pizzarriba, being on a bowling team, etc).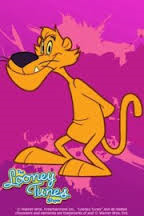 Related
Links
==External links==
Footnotes
Community content is available under
CC-BY-SA
unless otherwise noted.