Pow! was a weekly British comic published by Odhams Press in 1967 and 1968 from their headquarters at 64 Long Acre, London. Part of their Power Comics imprint, it was printed on newsprint stock, in black-and-white except for its colour front and back covers, and initially comprised 28 pages.
Pow! first appeared on 21 January 1967. With its 53rd issue, dated 13 January 1968, it merged with its sister title Wham! to form Pow and Wham. The 86th and final issue appeared on 7 September 1968, after which it merged into Smash!, another of the Power Comics line.

It is unrelated to POW! Entertainment, an American media production company.
History of POW
Pow! was owned by IPC, the International Publishing Corporation, a company formed in 1963 by Cecil Harmsworth King, chairman of the Daily Mirror and Sunday Pictorial (now the Sunday Mirror), through a series of corporate mergers.[1][2] All of the comics published by IPC were under the control of one or other of the subsidiary companies which King had brought together to form IPC, including Fleetway Publications Ltd and Odhams Press.[3]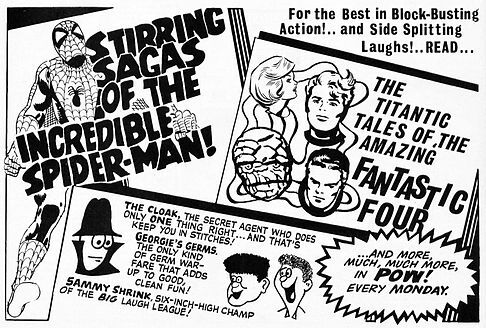 The Power Comics, including Pow!, were published by IPC's Odhams Press division, and were controlled by a three man editorial team, known as Alf, Bart, and Cos. Alfred Wallace ("Alf") was the Managing Editor at Odhams, and supervised the entire Power Comics line. Under his direction, Bart and Cos were the staff Editors who handled the individual titles. Bart was the Editor directly responsible for Pow!.[4]
Strips and Characters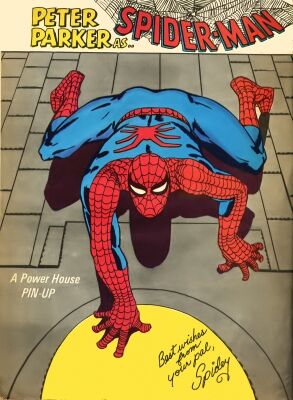 Like the other Power Comics, Pow! supplemented its British content with reprints from American Marvel Comics, including Spider-Man (from issue #1), and (after the merger with Wham! in issue #53) the Fantastic Four.[5]
Apart from the Marvel reprints of Spider-Man (drawn by Steve Ditko) and Nick Fury Agent of SHIELD (drawn by Jack Kirby), both of which began in issue #1, prior to the merger with Wham it principally featured humour strips. These included The Dolls of St Dominic's, The Group, Kicks, Wee Willie Haggis: The Spy from Skye, Dare-a-Day Davy, and (from issue #3) The Cloak. It also featured some adventure strips, including The Python and Jack Magic.
British artists whose work appeared included Leo Baxendale (who drew The Dolls of St Dominic's and The Group), Ken Reid (who drew Dare-a-Day Davy, in colour, for the back page), and Mike Higgs (who drew The Cloak).
References
External links
Community content is available under
CC-BY-SA
unless otherwise noted.