---
---
---

This page may contain some of the same content as the DC Database article. A more complete and current article is at the DC Comics Database Rip Graves (Quality Universe).
The complete list of authors can be seen in that articles page history. We wish to thank all awesome contributors at the DC Database who have worked so hard to bring us this information..

---
---
---
Rip Graves (Quality Universe)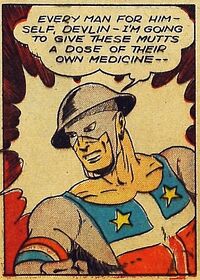 Current Alias
the Ghost of Flanders
Base Of Operations
a crypt beneath the Tomb of the Unknown Soldier, Arlington Cemetery, near Washington DC
Characteristics
Status
Occupation
patriotic adventurer
Origin
First appearance
Last appearance
Supposedly dead in the Battle of Marne, in the First World War, "Rip" Graves operated in the Second World War as a masked superhero from a crypt beneath the Tomb of the Unknown Soldier. He secretly and single-handedly excavated and built this sub-crypt base. The Ghost of Flanders used a red poppy as his trademark, commemorating the Second Battle of Ypres, on Flanders Fields.

Powers and AbilitiesEdit
Abilities
ParaphernaliaEdit
Transportation
Plane: He flew an armed biplane, seemingly of WWI vintage.
Weapons
Bayonet: He wielded a vintage WWI bayonet, which he was able to throw with incredible accuracy.

The Battle of Marne took place from 5–12 September 1914, which was two and a half years before the United States entered the First World War. The chronicles are unclear as to the details of Graves' participation in that action.
Related
Links
Footnotes
Community content is available under
CC-BY-SA
unless otherwise noted.