Tiffany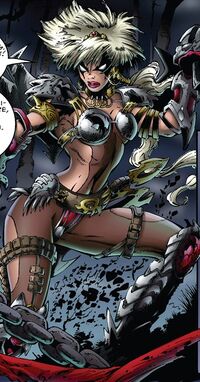 Characteristics
Origin
First appearance
Appearance of Death
Tiffany, much like her sister in arms Angela is an angel from Elysium. Tiffany was jealous of the fame Angela received when she had higher grades and beat all of her high scores. She decides to head on a Hellspawn hunting mission without permission.
She ambushed Spawn outside of West Virginia after being weakened by Phillip Krahn. She attacked him and nearly decapitated Spawn, the only way to kill a hellspawn without a heavenly weapon, but failed. Spawn called upon a Black Dispersal. The night creatures surrounded the young Angel hunter and she was mauled to death.
Character Powers and Equipment
Powers and AbilitiesEdit
Powers
Abilities
Appearances, Images, and QuotesEdit
Community content is available under
CC-BY-SA
unless otherwise noted.