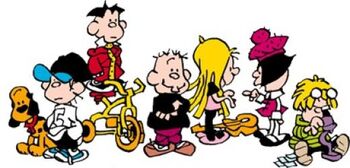 Tiger is an American comic strip created by cartoonist Bud Blake. Launched May 3, 1965, the popular, long running strip about a group of suburban boyhood pals was distributed by King Features Syndicate to 400 newspapers worldwide at its peak.
The National Cartoonists Society named Tiger the best humor strip in 1970, 1978 and 2000, with an additional nomination in 1998. Blake drew the strip until he was 85, two years before his death on December 26, 2005. Asked if he could continue to produce the strip, Blake told an interviewer, "Sure, I could keep doing it. But I can't. I've had enough."[1] After Blake retired, the strip continued to appear as reprints, and as of December 2005, according to the syndicate, Tiger was running in more than 100 newspapers in 11 countries.
Joe Kubert commented on Blake and his strip, "I know his work, and I've always enjoyed it. He was a wonderful artist and a wonderful cartoonist."[2]
Characters and story
Tiger followed a gag-a-day format and was designed to appeal to both adults and children. It centered around a scrappy group of kindergarten-aged kids in an unidentified, middle-class neighborhood. Parents and teachers were occasionally referred to, but no adult was ever pictured. Tiger was told from a child's perspective and retained its innocent kids' eye world view from beginning to end.
Collections and reprints
References
Sources
External links
Community content is available under
CC-BY-SA
unless otherwise noted.