Date of Birth
November 2, 1953
Place of Birth
Jacksonville, Florida, United States of America
Creations
Grim Hunter, Scarlet Spider Costume
First publication
Unknown
Personal History
Personal History of Tom Lyle is unknown.

Professional History
Thomas "Tom" Lyle (born November 2, 1953)[1] is a comic book artist and penciller.
Biography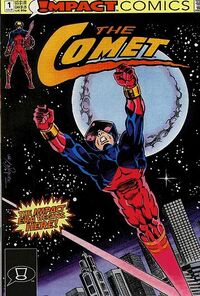 Lyle first came to prominence as penciler on DC Comics' Starman with writer Roger Stern.[2][3]
He went on to work on the first Robin limited series with writer Chuck Dixon. The series was an enormous surprise hit, prompting many reprintings of the first few issues as well as two Sequel miniseries — Robin II: Joker's Wild and Robin III: Cry of the Huntress — both of which reunited the creative team of Dixon and Lyle.[4]
Lyle's next project was The Comet for DC Comics' Impact Comics imprint, which he pencilled and plotted with writer Mark Waid contributing the scripts.[3]
At Marvel Comics, Lyle co-created the character Annex in The Amazing Spider-Man Annual #27 with writer Jack C. Harris.[5] As penciler of Spider-Man, Lyle was one of the artists on the "Maximum Carnage"[6] and "Clone Saga"[7] storylines which ran through the Spider-Man titles. Lyle's other work for Marvel included The Punisher vol. 3 with writer John Ostrander and Warlock which he wrote himself.[3]
He is also the artist on the comic Chickasaw Adventures.[8]
Since 2005, he has taught sequential art at the Savannah College of Art and Design.[9]
References
External links
Tom Lyle at the Comic Book DB
Tom Lyle at Mike's Amazing World of Comics
Tom Lyle at the Unofficial Handbook of Marvel Comics Creators
Notes
Trivia
See Also
Work History
Official Website
Links and References
Community content is available under
CC-BY-SA
unless otherwise noted.