---
---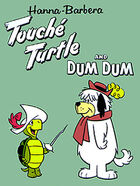 Touché Turtle and Dum Dum (pronounced too-shay turtle) is one of the segments from The New Hanna-Barbera Cartoon Series, produced by Hanna-Barbera in 1962.
This show was originally on the The New Hanna-Barbera Cartoon Series along with Wally Gator and Lippy the Lion & Hardy Har Har. It has also aired twice on the BBC in the UK during the 1970s and 1980s.
History
Touché Turtle (voiced by Bill Thompson) and his sheepdog sidekick Dum Dum (voiced by Alan Reed) were a pair of heroic fencers who battle villains and heroically saves Kings, Queens, maidens and others in distress. Touché was the brave and dashing leader, whereas Dum Dum was more of a simple minded follower. Brandishing his trusty sword and exclaiming his catchphrase "Touché away!"
During the run of the show, Touché Turtle used a standard fencing foil as a weapon. But in the opening title sequence, Touché Turtle used a firehose against a firebreathing dragon, a thing to tie up an octopus, and a fencing foil made of a nonconductive material against a sentient lightning bolt.
Episode list
Main article: List of The Hanna–Barbera New Cartoon Series episodes
DVD release
The first episode "Whale of a Tale" is available on the DVD Saturday Morning Cartoons 1960's Vol. 2. "Rapid Rabbit" is available on DVD on disc 2 of The Best of Warner Bros.: Hanna-Barbera 25 Cartoon Collection.
Touché Turtle and Dum Dum in other languages
Other appearances
Touché Turtle and Dum Dum appeared in Yogi's Ark Lark and its spin-off series Yogi's Gang. In those appearances, Touché Turtle was voiced by Don Messick due to the death of Bill Thompson in 1971 while Dum Dum had no dialogue.
References
Browne, Dan. "Touche Turtle According to Wingnut." WingutToons. 30 March 2006 [1]
"Touche Turtle." Cartoon Legends. Pure Imagination. 30 March 2006 [2]
External links
Community content is available under
CC-BY-SA
unless otherwise noted.