Wanda Von Kreesus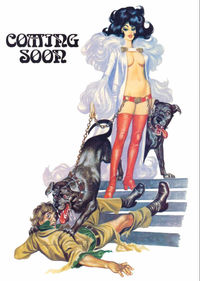 Real Name
Wanda Von Kreesus
Current Alias
Wicked Wanda
Affiliation
Leader of the Puss International Force
Relatives
Walter Von Kreesus (father, deceased)
Base Of Operations
Switzerland
Characteristics
Origin
Wanda Von Kreesus was a man-hating lesbian heiress to a fortune, left to her by her degenerate multi-millionaire father (whose death Wanda engineered by having her 16 year old nymphette girlfriend Candyfloss get him to chase her until he died of exhaustion). From her schloss on Lake Zurich, Switzerland, Wanda, her resident egghead Homer Sapiens (a masochistic mad scientist) and her paramilitary 'Puss Force' the PIF (an all female private army led by General German Grrr) plotted world domination purely for Wanda's entertainment. Wanda owned a bank, and her safe contained secrets that could topple governments should the mood take her.

ParaphernaliaEdit
Transportation
Supo Delecto Peniso Flagrante sports car
Weapons
Yes. Lots of them.

Wanda's omnisexual girlfriend Candyfloss (who she nicknamed "Pusscake") habitually called her "Boo'ful".

Wanda was the lead character in Penthouse magazine's long running satirical strip Oh, Wicked Wanda!.
Related
Links
Footnotes
Community content is available under
CC-BY-SA
unless otherwise noted.