Doctor Zadar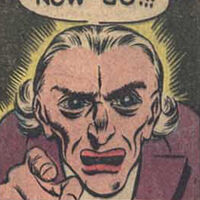 Current Alias
Doctor Zadar
Characteristics
Unusual Features
Hunchback
Status
First appearance
Appearance of Death
Doctor Zadar was a minion of the man known as Satan, who wanted revenge on the super-hero called the Comet. So Satan made a deal with Zadar in order to control the Comet and hypnotize him into committing several robberies and tarnishing his reputation. in exchange for this service, Satan promised him half of all the money stolen by the Comet.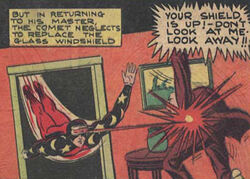 Soon after Satan began amassing a fortune in stolen money, Zadar learned that Satan was double crossing him and was keeping all the money for himself and giving none of it to him. Zadar then sent the Comet to kill his partner. The Comet did indeed disintegrate Satan into nothing, but he then accidentally did the same to Doctor Zadar. With Doctor Zadar dead, the Comet came out of his hypnotic haze and returned to normal.
Character Powers and Equipment
Powers and AbilitiesEdit
Powers
Hypnotism
Abilities
Doctor Zadar is a master hypnotist.
Appearances, Images, and QuotesEdit
Community content is available under
CC-BY-SA
unless otherwise noted.